Hugh Browne is our Director of Photography. He has photographed some of the most famous people in the world including presidents and International leaders and musicians. In fact he was Carlos Santana's photographer!
Hugh and & met through LinkedIn about a year ago and immediately struck up a great relationship.
He called me to say he was in the city (SF) and wanted to know if I had the time to meet with him. Of course I had to make the time. I took BART to the Embarcedero and walked up Market Street while Hugh was walking from Van Ness.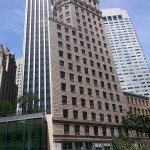 As luck would have it or in my estimation, the luck of UBU, Hugh was on the opposite side of Market Street at 2nd Street (right at one of my favorite buildings, The Hobart)  at the same moment I was. Thank goodness for cell phones!
We walked down to the Port of San Francisco at the base of Market Street and made our way to The Slanted Door overlooking the Estuary. We watched the cruise boats, sail boats & even a shipping liner cruise by. It was great to sit out in the sun and enjoy the great weather!
Then we walked to the Hyatt Regency which is just a couple of blocks away from the Port and has one of the most beautiful lobbies I've ever seen.
Hugh's son Alexander joined us to talk about his career and maybe have him think about coming to Belize. He's a 5-star restaurant level chef and has been interviewed for the TV series Top Chef. He is very accomplished especially for a 28 year old!
It's always a great treat for me to sit down with members of the team!