Sunday, September 5, 2010
This is one of the properties we have considered for our school.
Can you imagine these boys having this beautiful 300 acres site to grow up on? They'll spend their lazy Sunday afternoons swimming in the river, exploring the forest, creating special secret places that are special just for themselves. They will grow to acknowledge the wonders of the land.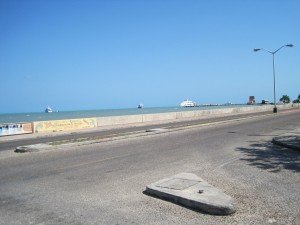 Saturday, March 21, 2010
I finally stopped to have lunch after walking five hours today.
I interviewed about 40 people today. I was very surprised by the answers people had. I asked each person, "What is the one thing you would change about Belize.
There were only 3 answers:
People need to be more God fearing
People need to take more responsibility for their own neighborhoods
The crime rate is increasing and you can't go out at night
The one police man I interview thought the crime wasn't that bad and when I told others about his reaction they said, "Sure if I was carrying a gun it wouldn't be as bad for me either."
I found out the the average retail job pays $3 an hour and police earn an average of about $150 a week/$7,800/year. Almost everyone has to live with extended families to survive. One person thought that it is more challenging today economically than prior to gaining their independence from England in 1981. I was told people believe the population in general is too passive and they don't cherish there independence. They truly don't believe they have anything to do with the crime or economic situation.
I stopped at as many shops I could to have an excuse to talk with the locals. One store owner tried to tell me that she paid $25 for a woman's blouse that was about 10 years old in style and could be purchased in Macy's for $35, lower end stores for $20-25 and her Belize price was $70 ($35US). The pricing was fairly typical except on shoes. It was difficult to find leather sandals but when I did find them the range was $15-25US. Yardage (since I enjoy sewing) was $2/yd for what I would pay $10/yd in the US and household appliances like an iron was $11US. So there are a few inconsistencies.
I asked a clerk about the pricing, she had been teaching at a high school but had lost her job. She said that employees are encouraged not to develop friendships with each other. Which of course inspires others to report on each other when anything might appear to be amiss.
This picture is across from a small park area across the bridge on the east side of town. There are many beautiful buildings but next door there was a totally unkempt building.
It is right across the bridge from where the water taxis are located which take tourist to the various islands like San Pedro.
Even though the common response to my question "What is the one thing you'd like to change about Belize?" is "Crime", I never felt at risk and was always able to strike up a conversation with everyone I approached.
It was an amazing day even though my feet are just a little bit tired.
Construction
I was surprised to see how they do construction in Belize. Although effective, the lack of proper building materials forces them to use methods which are much more time intensive and at times dangerous.
I was told about a man who had been building his home for more than two years with one wheel barrow of cement at a time.
Quite a bit of Belize City proper was destroyed in the 1963 hurricane when the decision was to move the capital to a newly formed city Belmopan (Bel for Belize and Mopan for their river).
Originally the city of Belize was designed for a maximum population of 50,000 but currently houses just under 70,000.
Since the capital was moved to Belmopan the housing districts of Belize City have suffered from neglect. Roads are riddled with large potholes and are typically dirt rather than paved.
This is a picture of where the locals would live, work and shop.
In contrast this picture is of where the shopping district is located where tourist might wander in from the water taxi if they were staying in San Pedro or had come in on one of the cruise ships.
Notice to colorful array of buildings. It reminded me of a "Popeye" village the first time I saw it from a cruise ship.