I have mentioned many times during the past year how many times I have been completely blessed by those who refer me to others or just happening (right!) to be in the right place at the right time!
A year ago, Melissa Swann introduced me to Rey Banzon merely because she enjoyed the both of us. We had a great conversation about his son's weight lifting, the economy in the Philippines.
Then in October we had a chance to get together again and Melissa told him all about UBU. When I asked if he'd be interested in designing the school, he agreed to do so. Then he told me it would be a gift! Talk about a blessing!
So today, after many weeks of missing our connections, I managed to get back over to Lafayette and pick up the preliminary plans.
I am in awe! I feel so amazingly blessed! I could not have imagined a better design, nor such an incredible gift!
The school is expandable to eventually house 3,000 boys. We've even talked about duplicating the school in the Philippines and possible other countries.
Let me know what you think!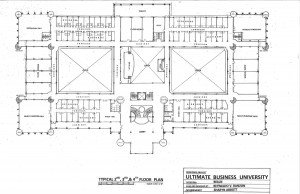 The third and fourth floors will be identical to the second floor.